One bedroom pavilion with open lounge on the large terrace for sun baths and spectacular views, with private jacuzzi on the terrace.
The holiday experience in the Siddhartha Pavilion has many facets, many of which are indescribable, abstract and incomprehensible.
In the short description therefore only a few facts: 100 sqm living space in one room with a bathroom and a separate toilet, 100 sqm terrace with sunbathing area and whirlpool, almost exclusive glass construction, complete equipment, exquisite solitary location with spectacular view.
Other properties are located completely independent of each other in the private residential complex Nirvana.
The sublime moment when you enter the terrace for the first time and look at the almost completely glazed pavilion and can grasp the view in its grandiose entirety is not really aptly described. Even if you enter the pavilion, you will miss the words. Great, unique, unbelievable would be possible ideas. But not enough. La corona de la Asomada, the crown of La Asomada. This was the first term I came up with when I saw the illuminated Siddhartha pavilion for the first time, driving up the mountain at night.
If you then slowly realize that you have chosen your place of residence for your time out, you know that you have done everything right. You will be lying in the whirlpool, absorbing the view and probably finding it hard to choose an island trip at all.
A stay in the Siddhartha pavilion will make your holiday a very special and unforgettable experience.
The new golf course above Puerto del Carmen was opened in 2008 and is only 10 minutes away from your domicile. You can reach the existing golf course in Costa Teguise in about 20 minutes.
A group that values individual, high-quality accommodation can arrive here with up to 8 people. The bungalow Parnass, the apartment Casablanca and the bungalow Empireo are also located in the private complex.
The property is not suitable for parties - No one is allowed to be invited. If it is not respected, you will need to leave the property.
+ More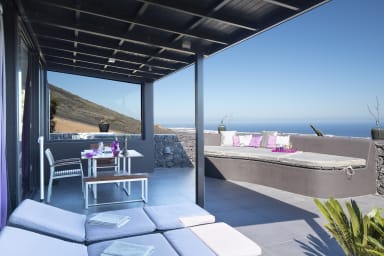 24 Hour Check-in
Air Conditioning
Baby bath
Baby crib
Babysitter recommendation
Balcony
Bathroom step free access
Bathroom wide doorway
BBQ
Beach essentials
Bike
Blender
Books
Books Kids
Bottled Water
Ceiling Fans
Cleaning and disinfection
Clothes Dryer
Coffee Maker
Contactless check-in and check-out
Dishwasher
Dvd Player
Ecological
Eco tourism
Energy-efficient devices
Essentials
Extra pillows and blankets
Fire Extinguisher
Fireplace
First Aid Kit
Freezer
Fridge
Full Equipped Kitchen
Games For All Ages
Kids' Games
Garden
Gated Community
Gated property
Gloves available
Hair Dryer
Handicap Accessible
Hand sanitizer
Hangers
Heated Pool
Heating
Highchair
Historical
Hi-tech
Hoover
Ice Maker
Internet
Iron
Jacuzzi
Jacuzzi Bath
Kettle
Kids Friendly
Laptop Friendly Workspace
Linen Towels
Long Term Rentals Available
Massage On Request
Microwave
No single-use plastic
No single-use toiletries
Oven
Parking Included
Pets Considered
Pool Private
Pool Shared
Private Car Park
Private entrance
Professionally cleaned
Romantic
Rural
Safe
Satellite Or Cable
Sauna
Sea View
Security System
Self Check-in
Shared Car Park
Smoke Detector
Smoking Forbidden
Social distancing
Staff wear protective equipment
Stereo System
Tennis Court
Terrace
Toaster
Towels changed upon request
Travel cot
Tv
Ventilator
Victorian
Videogame Console
Vineyard
Washing Machine
Wine glasses
Work Desk
Reviews
Carola T.

Switzerland

Carola T.

Switzerland

Es ist einfach wundervoll

Mir einem Mietauto an perfekter Lage

---

Birgit v.

Germany

Birgit v.

Germany

Großartig

Die umwerfende Aussicht, die ruhige Lage und die tolle Ausstattung lässt keine Wünsche offen. Wir waren schon in vielen Ferienwohnungen aber diese ist sicher in den Top 5.

---

Steve R.

Germany

Steve R.

Germany

Tolle Unterkunft, traumhaft schöner Blick.

Wir haben den Aufenthalt sehr genossen. Ruhe, Abgeschiedenheit (Mietwagen ist hilfreich) und Privatsphäre. Wirklich schöne Anlage und nette Gastgeber.

---

Benjamin J.

France

Benjamin J.

France

Nice place, relaxing and beautiful house and view

The pavillon Siddhartha is in a very calm and beautiful area. Nobody will disturb your stay and you will be able to disconnect totally. Private parking place is included. The house is nicely decorated and you have all you need for great holidays. Everything was very clean, we had more towels than needed. You can cook, clean your cloths, relax in the sun. The bed is comfortable. Only some small details could be improved like the shower head who is to small or having an oven but for 1 or 2 weeks holidays, it is very acceptable. Except these very minor points, pur stay has been an absolute dream. The view from the SPA is great and you feel alone when you relax in it. We will come back next time we will be in Lanzarote !!! And last point, Susanne is a great support when you need advices about activities.

---

Javier G.

Spain

Javier G.

Spain

Semana vacaciones

Ha estado bien

---

Rémi C.

Rémi C.

Great place with amazing view!

We had an Amazing stay at pavillon Siddhartha, view is breathtaking, as well as the location, super central to discover the island. The flat is really private and intimate and confortable, the jaccuzzi is huge plus

---

André R.

Germany

André R.

Germany

Lanzarote Nirvana Siddahrtha

Bin nun seit 2015 immer wieder auf Lanzarote und wiederholt begeistert! 7. Aufenthalt in dieser Anlage! AEG- Aus Erfahrung Gut!!! Bedingungslos zu empfehlen! Einzigartiger Blick über die Insel bis zum Meer!!! Alle Ziele auf der Insel gut erreichbar! Top! Spectacular View... Want be there again very soon!

---

Marc W.

Ireland

Marc W.

Ireland

Nirvana La Asomada

I would very highly recommend this accommodation, -amazing high class accommodation -top luxury -everything is of the highest quality -Nico is the best host, private but available -the quietest place on the island, out of the wind and not a sound, day or night. -perfect privacy -warm jacuzzi -amazing views, the ocean , the mountains , nearby other island

---

Wolfgang S.

Germany

Wolfgang S.

Germany

Wolfgang S.

Tolle Lage, super schöne Einrichtung, ganz für sich...ohne irgendwelche Blicke von Außen - und nur mit dem eigenen großartigen Blick in die Ferne...Honey moon!

---

Großartige Unterkunft

Fantastischer Blick, herrliche Ruhe, top Ausstattung!!

---

Rüdiger H.

Germany

Rüdiger H.

Germany

Eine Traumoase auf Lanzarote

Der Pavillon Siddhartha in der Privatanlage Nirvana lässt keine Wünsche offen. Hervorragende Ausstattung, phänomenale Lage, einzigartige Architektur und hohe Privatsphäre sprechen für diese Unterkunft. Die Betreuung rund um unsere Buchung war perfekt (inkl. der Unterlagen, Ansprechpartner, etc.). Ein idealer Ausgangspunkt für Selbstversorger, die dem Hotelrummel entfliehen, aber auf sehr gehobenes Niveau nicht verzichten wollen. Perfekt

---

Klaus T.

Germany

Klaus T.

Germany

Perfekte Auszeit im Siddhartha

Haben zum 2. mal im Nirvana unseren Urlaub verbracht. Es war wieder wunderschön. Siddharta ist der ideale Ort zum entschleunigen😊 Wir wurden herzlich empfangen, der Bungalow ist hell und liebevoll eingerichtet, alles sauber und gepflegt. Die Terrase mit Essplatz, Liegen und Yacuzzi und der tollen Aussicht einfach großartig. Wir kommen wieder. D&K

---

Bernd K.

Germany

Bernd K.

Germany

Wundervoll

Die Aussicht ist phantastisch. Der Bungalow ist genauso schön wie auf den Bildern. Alles war sehr sauber. Es wurden sehr viele Handtücher bereitgestellt. Bademäntel und Fön waren vorhanden und ein kleines Willkommenspakte aus Wasser, Wein und Obst. Der etwas kleine Whirlpool steht leider nicht windgeschützt, so dass man ihn an sehr windigen Tagen nicht unbedingt benutzen kann. Ein Backofen und ein Kaffeezubereiter (wie z.B. Senseo oder Dolce Gusto) hätten unser Glück perfekt gemacht. Wer die Abgeschiedenheit und Ruhe sucht ist hier am richtigen Ort.

---

Gaby K.

Gaby K.

Ruhiges Hideaway mit Inselpanorama

Ein prima Ort sich zurück zu ziehen und die Nähe zur Natur der Insel zu spüren. Gerne wieder.

---

Anne S.

Anne S.

Très bel endroit

Très belle vue sur l'océan, maison moderne entièrement vitrée, très propre, très calme. La maison est située sur une propriété composée d'une grande maison principale et 2 autres petites villas.

---

Selina J.

Germany

Selina J.

Germany

1A

Durch und durch eine tolle und ausgefallene Unterkunft! Wir haben es sehr genossen!!!!

---

Florian A.

Germany

Florian A.

Germany

High-Class ans in Top of the World

Bereits zum 2. Mal haben wir nun einige Tag im Pavillon Siddharta verbracht.

---

Rüdiger H.

Germany

Rüdiger H.

Germany

Ein Traum

Stilvoller kann man nicht Urlaub machen .. wunderschön in den Bergen von La Asomada gelegen, traumhafter Blick auf den Atlantik... exquisit eingerichtetes Appartment in traumhafter Gartenalage ... perfekt !!

---

Gaby u.

Germany

Gaby u.

Germany

Hideaway mit allem Komfort

Wir waren begeistert von der tollen Lage etwas außerhalb in der Natur mit herrlichem Fernblick. Die große Terasse und vielen Fenster geben ein großartiges Wohngefühl. Ausstattung auch in den Kleinigkeiten sehr geschmackvoll und hochwertig. Der Vermieter Nico ist sehr freundlich und hilfsbereit. Ich denke, wir kommen wieder.

---

Helma T.

Helma T.

Bungalow Siddhartha

Leider fanden wir etliche Mängel, die beim einem derartigen und auf allen Websiten als "Luxusbungalow" angepriesenen Objekt auf keinen Fall vorkommen dürfen: 1. Matratzen des Bettes durchgelegen, Bettwäsche teils eingerissen, Reißverschluss defekt 2. komplett verkalkte Wasserhähne in Küche und Bad 3. kein Backofen oder zumindest ein Minibackkofen oder Mikrowelle mit Backfunktion (gerade im Urlaub möchte man sich schnell etwas im Backofen zuzubereiten) 4. defekte Deckenlampe 5. fehlende Rotweingläser (wir hatten uns 2 Gläser gekauft…) 6. fehlende Dessert- bzw. Kuchengabeln 7. fehlende Badematte (wir hatten uns mit Handtüchern beholfen, da die Rutschgefahr nach dem Duschen auf den glatten Fliesen erheblich ist. Nach Reklamation wurden Badematten ausgelegt) 8. schwer zu schließende, da defekte Schranktür (wurde nach Reklamation repariert) 9. Rückenlehne und Sitz eines Gartenstuhls defekt (wurde nach Reklamation repariert) 10. Stores, vor allem im hinteren Bereich des Betts, übersät mit weißen Flecken und teils (wie auch ein Kissenbezug) eingerissen. (Teils wurden die Stores nach Reklamation repariert) 11. beschädigte Schublade und Handtuchhalter in der Küche 12. fehlender Windschutz auf der Terrasse, so dass diese wg. des anhaltenden starken Windes fast kaum genutzt werden konnte Die Ausstattung des Bungalows ist leider enttäuschend. Design an sich schätzen wir (sonst hätten wir ja nicht diesen Bungalow gemietet), doch fragen wir uns, warum es das Design scheinbar nicht gestattet kleine Beistelltische bei Liege und Sessel aufzustellen. Sitzt man nämlich dort, muss man sein Glas oder sonstiges zwangsläufig auf dem Boden abstellen. Hygienisch ist das nicht. Da auch keine Garderobe vorhanden ist, ist der Stauraum, zumal bei einem Aufenthalt von 4 Wochen, nicht ausreichend. Lichtquellen sind unzureichend da der glänzende, schwarze Bodenbelag das Licht schluckt, usw.usw.

---

Boris S.

Germany

Boris S.

Germany

Es war fast alles perfekt. Die Unterkunft war genauso wie es beschrieben wurde. Ruhig, eine ...

Es war fast alles perfekt. Die Unterkunft war genauso wie es beschrieben wurde. Ruhig, eine wunderschöne Aussicht und Nico hat uns wunderbar beraten. Beim buchen sollte der Hinweis gegeben werden, dass die Straße zur Wohnung gegebenenfalls nicht für alle Autos geeignet ist ( unsere erste Wahl war ein Mini Cooper ) Der einzige kleine Minuspunkt der gesamten Unterkunft war der Whirlpool. Leider haben einige Düsen nicht funktioniert und der Pool hatte einen Schmutzrand knapp oberhalb des Wassers. Wir werden wiederkommen. 👍

---

Cora K.

Netherlands

Cora K.

Netherlands

Perfect, excellent location and a wonderfull casa and terrace

Perfect, excellent location and a wonderfull casa and terrace

---

Uwe H.

Germany

Uwe H.

Germany

---

Dieter S.

Switzerland

Dieter S.

Switzerland

---

Patrick S.

Switzerland

Patrick S.

Switzerland

---

Benno J.

Germany

Benno J.

Germany

---
Show more ↓